Tomorrow we go sailing with friends. It's promising to be a beautiful day tomorrow. Sunny and light winds. We always take a little something with us. You can't bring flowers when you go sailing so we will bring a bottle with us. Off course I found a solution for the missing flowers!
Morgen gaan we met vrienden mee op hun zeilboot. En het wordt mooi weer, dus dat beloofd een heerlijke dag te worden. We nemen ook altijd een flesje mee. Natuurlijk moet daar gewoon een leuke tag aan! Met bloemen kan je niet aankomen als je gaat zeilen, maar daar heb ik toch iets op gevonden!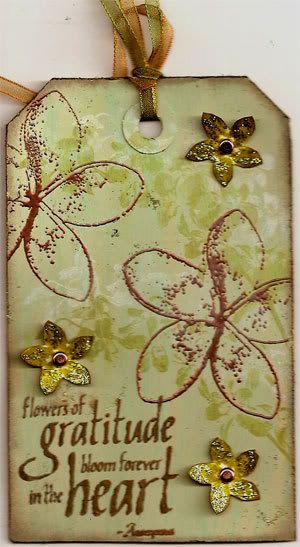 I am too tired to put the explanation here. I promise to blog that on monday!

Ik ben te moe om hier de uitleg nog te plaatsen. Dat doe ik maandag, beloofd!
explanation (uitleg):
background: adirondack paint dabber Juniper, big flower (Darkroom Door) embossed with copper, stamped background flowers (Darkroom DOor) with frostwhite and adirondack lettuce. Little flower stamped with Lettuce and embellished with a little bit of gold stickles. Distress Walnut Stain on the edge of the tag en the edges of the little flowers.

hugs,
Linda